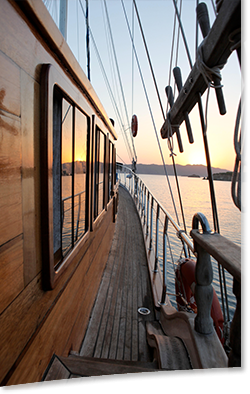 About Us
come4sun was founded in 2011. The motives for undertaking this endeavor are our passion for Turkey, in particular for Bodrum , and our love of sailing in the beautiful, crystal-clear, turquoise and deep blue waters of the Aegean. The magnificent bays and pine forests around Bodrum are an ideal basis for the special type of relaxing vacation we offer, the Blue Cruise. Our crew has more than 20 years of experience in the yacht and cabin charter business in the Aegean.


For more than two years we worked on making our dream come true and searched for THE perfect ship. In the fall of 2011 we finally found it in the yacht M/S Sevi-5. In an adventurous cross-country trip along the Turkish coast we saw M/S Sevi-5 in a harbor and immediately fell in love with the yacht. After a first thorough examination we decided on the spot that M/S Sevi-5 had to be ours. After challenging negotiations the yacht M/S Sevi-5 now belongs to us.


The main objective of our enthusiastic staff and crew is to share our dream and to create an unforgettable vacation for you on board of our yacht M/S Sevi-5.