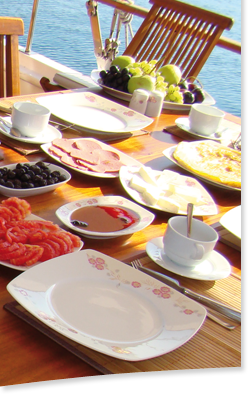 Menus on board
for yacht- and cabin-charter
On board of our yacht Sevi-5 we serve typical Turkish food.

Breakfast consists of "Cay" (traditional Turkish black tea) or Nescafe, "Beyaz Penyir" (regional sheep cheese) and mild cow-milk cheese, olives, honey, jam, sausage, tomatoes, cucumbers, white bread and different egg dishes.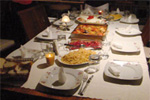 For lunch and dinner we serve delicious fresh vegetables with meat (beef, ground beef, chicken) or fish and rice, bulgur (a type of shredded wheat) or noodles. Yoghurt or "Cacik" (Tzatziki) are also Turkish favorites. Fresh Mediterranean salad will also be on the menu. We use highly aromatic spices from our own gardens in the Mediterranean. As dessert we serve fresh, naturally ripened sweet fruits.

Deluxe Menu (for yacht charters only)
The Deluxe Menu on board of Sevi-5 is especially recommended for fish- and meat-enthusiasts. Our chef prides himself in being very creative. On the menu you will find octopus, shrimps, tender beef steaks, lamb cutlets and fish soup. For the Greek island tour half-board is possible. You can go out for dinner in the harbors where we anchor.

Drinks
We offer on board alcoholic and non-alcoholic (national and international) drinks.